American Down & Feather is a manufacturer of high-quality down and feather-soft products for the bedding, hospitality, upholstery and designer workroom trades. It offers stock comforters as well as custom-sized comforters priced by the sq. inch. Custom-cut foams for upholstering, including "dry fast" outdoor foam, are also available.

HRD (High Resilient Dacron) is the perfect choice for outdoor pieces that are exposed to the elements but are underneath a roof, such as a porch. HRD is sold only in 24" x 80" sheets and is priced considerably lower than the "dry fast" foam. Custom-sized cushions and templates are cut at no additional charge.

Throw pillows and bolsters can be ordered in poly green, poly, poly/silk, blended poly/soft feather, down/feather and 100% down in both standard and custom sizes. All fibers are also available in bulk. Custom sizes can easily be priced: example a 13"x19" custom: (13+19=32,÷ by 2=16, same price as a 16"x16").

Round pillows cost the same as square pillows. Lumbar pillows: (add size together, ÷ 2, same as that sq.)

Pillow, Foam and comforter samples are available for a small fee.
To place an order, please call Unique Expressions at 989-832-0250 with your credit card number or e-mail request to: uniqshasta@charter.net
Custom template sent to
American Down & Feather
using the poly fill.
Fabricated by
Allen Mardette Design
in Hermitage, TN

Please request wholesale price lists for the following from uniqshasta@charter.net

Comforter

Foam

Alternative Foam

Throw Pillow

Bolster



Green Pillow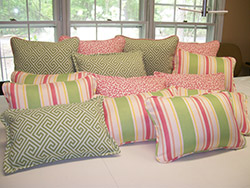 Fabricated by The Pincushion,
Denton, MD using 13" x 19"
and 19" x 19"
Poly Green pillow forms.
Designer was Jamie Merida,
owner of Bountiful
in Easton, MD
Designed and fabricated by
Lady Dianne's, Fayetteville Ga
using the "Green" 18" outdoor
pillows from American Down
& Feather and pattern # 56050
Foster Classic Rain fabric

Template was sent to American Down and Feather by Celeste Breen of Creations by Celeste in Grayslake, IL. Requesting HRD foam 3", ideal for outdoor use. She used Sunbrella® fabric # 5439 Canvas Navy and # 54011 Canvas Ginko.