-- FlexTrack Reviews and Photos --
From: Beth Hodges, Senior Instructor of Installation
Dear Shasta…
I had a very tight bay situation: I had ordered a beautiful brass fascia for my client, and the return was wrong. Since it would have been really expensive to send back for a remake, and (not to mention) the client had a tour of her historic home in a couple of days, I needed to find a way to have something FLEXIBLE that I could use inside of the fascia…a very tight space. Konnect did the job for me. The smaller size of rod bent easily…the rollers worked great with her sheer draperies…and the one hundred plus tourists were never the wiser of the drama that took place a few days earlier. Not only did Konnect work, but Shasta was SO cooperative and helpful. The rod shipped in a small box, saving shipping costs. Yes, I know that rods can be bent: I actually TEACH that skill…but this saved me time, money, and worry. I highly recommend it.

Beth Hodges
Beth Hodges
Senior Instructor, Installation
Custom Home Furnishing Academy
Immediate Past President, Window Coverings Association of America
CWTP, WCP, WFCP Expert
10 / 2007
www.BethHodges.com

From Karen Hardy, Accent Draperys, Inc.
Good morning Shasta,
We will definitely get you some photos for the website when we have completed the job. We appreciate you and your business! We are definitely here to support our WCAA and WAA members. I do know we will place probably another 2-3 orders for the same amount. We have to fulfill 112 windows with double track, for draperies and sheer. We LOVE the track system.
Have a great day! Be Blessed! Karen
Accent Draperys, Inc.
Professional Drapery Workroom & Interiors
1515 Chamberlayne Parkway, Richmond, Virginia 23222
P: (804) 329-3930 F: (804) 329-3932
"Covering More Than Just Windows"
Karen C. Hardy, Interior Designer, WFCP, WCAA, WAA
2 / 2009
From Donna Cash, Designs By Donna
Shasta,
Although I have not yet installed it, I would like to point out to those interested, Konnect has a sample rod kit to purchase. This is great if you just want to see what it looks like and try it out in your shop or workroom prior to using on a project. It is nicely priced, and ordering through Shasta, you receive it in good time!
I'll be happy to send a testimonial once I get this installed.
Sincerely,
Donna Cash
www.designsbydonnaatlanta.com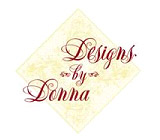 transforming decorating dreams into reality
WFCP Certified



Membership Chair, WCAA Atlanta Chapter
Member Designers Workroom Council
5837 McEver Road
Flowery Branch, GA 30542
770-967-6543
2 / 2009
From Robin Matthews, Seams Sew Right
Dear Shasta,
I installed the Konnect Bendable Rod System under a bay window cornice board. We were able to install sheers and panels that were seamlessly operational. My customer was thrilled, and I was a "hero"!
Thank you,
Robin Matthews
Seams Sew Right
Kinnelon, NJ
2 / 2008
From Betty Martinez, Elegant Interiors
Hi Shasta,
This is the installation that my husband and I did last year with the Konnect bendable rods. For the straight walls, it would have been easier to install the straight rods, but I wanted to be able to turn the corners instead of the rods just meeting. . Since we did the entire room with a double continuous rod, it was somewhat difficult to manage two rolls of bendable rods. We were very pleased with the end result and so were the customers. I hope this helps.
Thanks,
Betty Martinez
Elegant Interiors
Chesapeake, VA
11 / 2009
P.S. Total expanse of the double track was 76ft.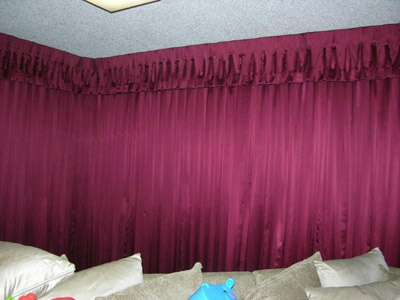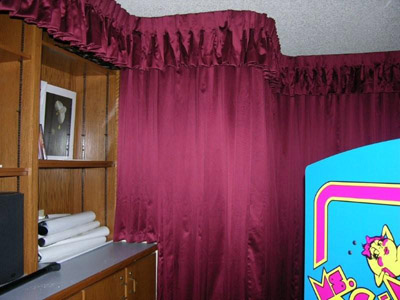 From Robert Bezek, Bezek-Durst-Seiser Architects
Shasta,
The Konnect package arrived the first Monday after my order. What a great service. It is a wonderful product that ships easily and inexpensively. My complex bay window installation is already completed less a few drapery panels. I had four tight radius 90's. I miss measured a little for the bends and as a result my radiuses are closer to 2 and ¾ inches than three. I would say that three inches is most definitely the limit but very tight and nice looking. The rollers traverse wonderfully around this radius. What a god send product. The only other choice we seemed to have had was imported expensive German custom fabricated hardware. We procrastinated for over a year do to cost and complexity until we found Konnect on the web.
Robert Bezek
Bezek-Durst-Seiser Architects
Anchorage, Alaska
1 / 2010
From Mary Ann Plumlee
Shasta, we love Konnect track. I keep a big roll of it. We don't use it often, but it is great for some unusual applications. The neat thing is one person can install it very easily.

My installer brought a job back because he said he didn't have any help to hang the bay rod. I pooh poohed him and went out and hung it by myself right in front of his astounded face. (sweet!)(ornery old coot)
map
Mary Ann Plumlee
Plumlee Place
Waco, Texas
12 / 2008
From Diane Preston
Shasta,
I just wanted to let you know how much Konnect's bendable rods have helped me out in bay window installations. When I am wanting to put functional drapes under a valance on a bay window these rods are the easiest and most economical solution that I have found. I mount the rod to the dust board of the valance or cornice. The rod is easily bent and cut to the desired length needed and no need for templates. I have also used this track for a functional curved room divider with great results.

Thanks for offering a great product!
Diane Preston, Master Window Treatment Artisan
Diane's Interior Creations
Murfreesboro, TN
3 / 2009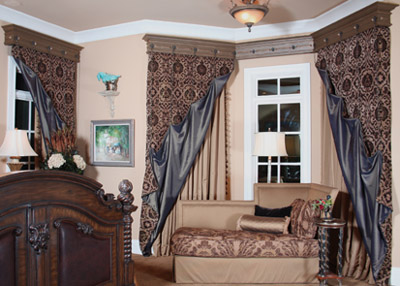 From Whitney Nelson
Hi Shasta,
I am enclosing the picture of my screened in porch in Richmond, Va. It is made of about 120 woven Sunbrella swatches all pieced together using the black Sunbrella from your books. I used the Konnect system and it has been wonderful. They have batons on the leading edges and slide smoothly. They also have been weather worthily under the porch. I would recommend them to any fabricator. Thanks.
Whitney Nelson
Straight Stitches, LLC.
Richmond, VA 23226
4 / 2009 -- purchased 40 ft. of standard T-3 track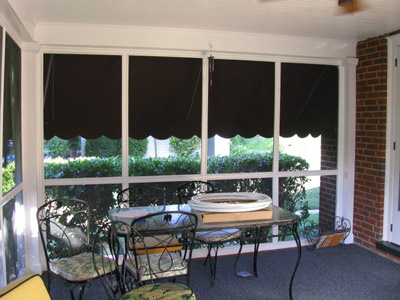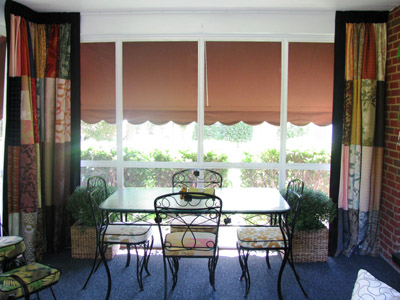 From Ramon at Accent
Hey Shasta,
Hope everything is going well with you. Here is a unique way of using your bendable track to find solutions for our clients. Client had these to two tables inside her formal foyer area and that is where she would keep her small kids books, rain boots and school supplies. So she asked us to come up with a solution to dress up the tables to match the foyer, create storage and hide the mess under the tables. Also she wanted to be able to open and close the area and that is where we used the track system. Please review photos in the attachment.

Have a great day.
Ramon at Accent
Accent Draperies
Richmond, VA
3 / 2012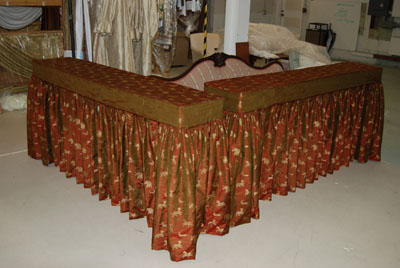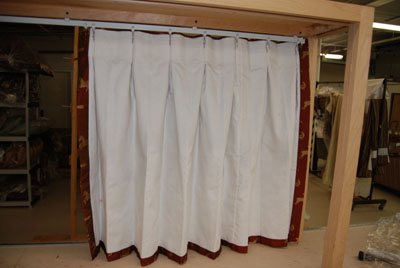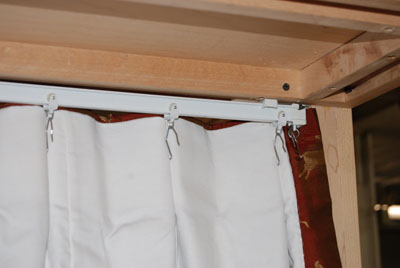 From Cathy Vonderheide
Good Morning Shasta,
We did use 2 pieces of bendable track (they meet in the middle) and the valance kit for this treatment. Our returns were made by using the 7" at the end of the drapes/valance, put a drapery pin in the end and hooked it on a screw/eyehook that we put in the wall. The client uses two long batons to open and close the drapes.

One piece that would have been helpful to have is a master carrier that has an overlap. This customer wanted the room to be completely blacked out and in order to do that the drapes needed to overlap. It has been a struggle to have them overlap and still keep the integrity of the drape.

Your product is perfect for this type of application. Curved walls can be difficult to design window treatments for, but having the bendable track makes our job a lot easier and gives us many more options at an affordable price.

We hope to use your product again in the near future.
Cathy Vonderheide
The Drapery Company
Lutz, Florida 33549
4 / 2012 -- Purchased 2 Konnect Kits #3 and 23ft of Valance in January of 2012