Summer 2020 – during Covid-19
What a strange time we are all experiencing! Covid-19 has touched the entire world; with all of us working together, we can survive this pandemic. I hope you are well and staying safe.
Due to Covid-19, some vendors were closed temporarily while others had to change their production procedures to adhere to social distancing for employee safety. Fortunately, many places are opening again. Although I have two sources for Sunbrella® products, there are back orders for Sunbrella® fabrics, so please keep this in mind, and check availability as soon as you know your pattern number(s).
Umbrellas add a decorative touch to any outside setting. Be sure to let your clients know that you offer umbrellas to coordinate with their outside settings. What a great example below!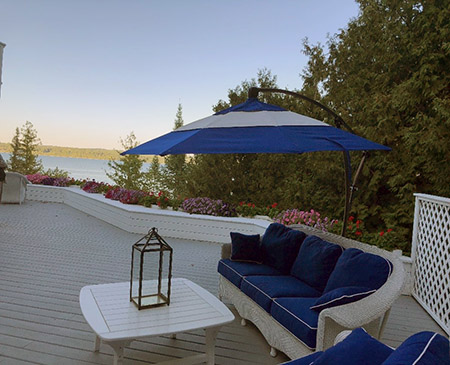 The above was designed by Georgeann Lindberg from G. Lindberg Interiors in Charlevoix, MI. The umbrella is Model BA 908 using Sunbrella® pattern # 5499 True blue, coordinated with pattern # 57003 white.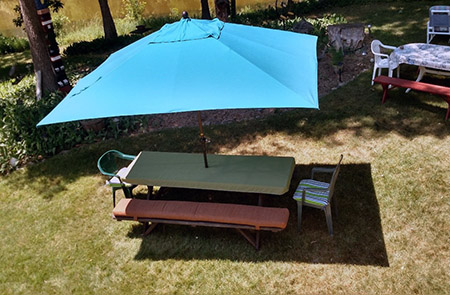 California Umbrella Model: GS 1188, rectangle 11' x 8' x 8 ribs
Using Sunbrella® pattern # 48081 Spectrum Peacock
When California Umbrella introduced a rectangular model, I ordered one for my own home and was pleasantly surprised by the increased shaded area it offered. The open umbrella shades the 9' picnic table (above) cooling it and the picnickers. Photos and personal experience make the best advertising.
View different examples: http://www.uniquexpressions.net/productlinehtmls/calif_umbrella.html
You can also download the current catalog at the above link. Request wholesale price list from: uniqshasta@charter.net
Plumridge Inc. has added a new hardware line made with rust proof, marine grade stainless steel and powdered coated aluminum. Only 316 stainless steel is used which has the best resistance to sea air and humidity. All products are manufactured in the U.S.A.
View the line: http://www.uniquexpressions.net/productlinehtmls/plumridge.html
Due to the Corona Virus, the 2020 Custom Workroom Conference to have been held in Hampton, Virginia in October, has been cancelled; we hope to see you there in 2021. Check out the video made by Cathy Tucker, using the Draw-Matic products, posted at: https://www.youtube.com/watch?v=lEjTwX3BBSY
Using the Draw-Matic products in your fabrication will increase efficiency which increases profit margins.
Please be aware that American Down & Feather is shipping with a slight delay due to virus adjustment in their operation. All products are manufactured in the U.S.A.; they make custom-size pillows to your specs, as well as foam cut to your template. Feel free to request their wholesale prices from uniqshasta@charter.net.
Here is a great quote from Andy Rooney: "Life isn't about waiting for the storm to pass…it's about learning to dance in the rain." Let's hope for a brighter tomorrow.
Please take care of yourself and others.
The very best to each of you.
Shasta Breitkopf