HAPPY SPRING 2022!!
Winter in Michigan was quite mild this year, but spring is very welcome. After avoiding the pandemic for the past two years, I am looking forward to turning the page, taking off the masks, and heading to Florida to attend the IWCE show in Ft. Lauderdale.
A busy section of the show is always the WFCP Workroom Central where workstations are set up and demonstrations are held throughout the day by industry specialists. Sandra VanSickle, who is in charge of the Workroom Central, explained it this way:
"WFCP Workroom Central is the place that brings the industry full circle. Annually, designers, fabricators, installers, and upholsters gravitate towards the booth to be inspired by the creative aspects of the vignettes, gain valuable information from the instructional presentations, and learn new skills during the hands-on demonstrations.
This is also a place where the beautiful fabrics, trims, hardware, and supplies that are so generously donated by our vendors, are brought to life by the Artisans and showcased in their final form.
Over the years, due to the visual and interactive aspects of the booth, it has become a gathering place to meet new friends, reminisces with the old, and share our knowledge and vision of what's to come.
Thank you,
Sandra"
The workroom table used in Workroom Central will be totally outfitted with the Draw-Matic edge ruler, clamping bar and cutting guide. This will give attendees a chance to see how Draw-Matic equipment increases efficiency and productivity, resulting in higher profit margins. I am planning to attend and hope to meet many of you there.
For those of you who have not seen the two videos demonstrating the various uses of the Draw Matic system, click on one or both of the following links:
Joy Wilbur: https://www.youtube.com/watch?v=AGgYNJxA4so
Cathy Tucker: https://www.youtube.com/watch?v=lEjTwX3BBSY
Springtime means outdoor decorating; however, numerous Sunbrella® fabrics have been on backorder, and so far, the situation has not improved much. We are currently waiting for several back orders that will not be available until July. Since we have two different suppliers, please check for availability of requested materials by sending me the pattern number and approximate quantity required.
If you have clients who are planning to decorate or re-decorate outdoors, suggest a coordinated outdoor Sunbrella® umbrella by California Umbrella, and browse through the 2022 retail catalog with your clients:
View 2022 California Umbrella Catalog
Please request wholesale price list from uniqshasta@charter.net.
Many people think that umbrellas are round only, but so many outdoor tables are square or rectangular. In the photo below, is an umbrella that I purchased for my own home. It fully shades a 9' picnic table.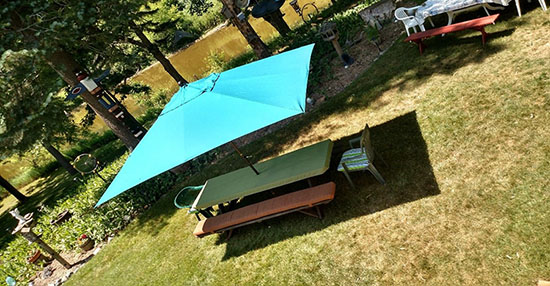 In these troubled times, I send condolences to those who have lost loved ones and wish all of you a very successful season. We all have to hold onto Hope.
Sincerely,
Shasta Breitkopf
3.21.22